Update Jan 17, 2015: Baptism Day Photos (picasa)
———-
With deepest joy and gratitude to God for the safe arrival
of our precious baby, we would like to announce
the birth of our fourth child (and first daughter),
Melinda Joy Kidd

born at 6:40pm on Monday, December 29, 2014

weighing 6 lbs 9 oz.
_________________________________________________
Baptism
Melinda will be baptized at
2:30pm, on Sunday, January 11, 2015

at the New Horizon Church in Scarborough.
See www.newhorizonchurch.ca/wp/map for directions.
All are welcome to attend.
_________________________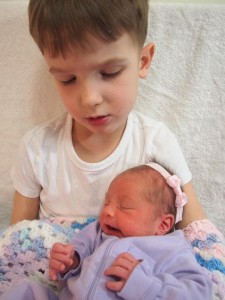 Melinda with brother Justin, 5 days old
_________________________
Frequently Asked Questions
What are the baby's birth specifications? A: weight: 6 lb. 9 oz. (2.7kg);  length: 20.5inches (51.5cm), dark hair, blue eyes.
How long was Kristin's labour? A: 2 hours from start of established labour to birth.
Were there any complications? A: due to a pregnancy-induced liver function disorder, the OB considered it best to induce labour 2 weeks early.  Apart from breaking the waters to induce labour, we're thankful that the birth was all natural without complications.
Where was the birth? A: The baby was born at Scarborough Grace Hospital due to having to be induced on account of Kristin's liver function problem.
How is breastfeeding? A: Melinda is feeding very well and is thriving.
Why did you name the baby Melinda Joy?  A:  The name Melinda means "Gentle" or "Sweet." The name Joy means, well, "Joy." [You could say she's our "Sweet little bundle of joy." 🙂 ]  The proximity of her birth to Christmas had an influence on the choice of names. Christmas is a time of joy, of rejoicing, a season to celebrate the coming of our Saviour. Hence the middle name Joy. Furthermore, it is our prayer that our daughter, as she grows and matures, will aspire after the mother of Christ, Mary, a young woman who found favour with God, who humbly trusted His word, and who offered herself as a willing servant to the Lord (Luke 1:30, 38).
What is the baby's theme verse? A: The theme verse is taken from Mary's song, the Magnificat: "My soul magnifies the Lord, and my spirit has rejoiced in God my Savior. For He has regarded the lowly state of His maidservant; for behold, henceforth all generations will call me blessed. For He who is mighty has done great things for me, and holy is His name. And His mercy is on those who fear Him from generation to generation" (Luke 1:46-50).  
Why are you choosing to baptize your baby? A: We do not believe baptism will make the baby go to heaven automatically.  But just as male babies received the covenant sign of circumcision in the Old Testament, we believe that God requires us to put His mark of ownership on our children, and in baptism He promises to save our children as they grow up to receive the covenant promises, repenting of their sins personally and learning to love and obey the Lord Jesus.
Do you need meals or anything for the baby? A:  We are fairly well supplied with meals at the moment, thanks to family and friends. However, we would gladly accept donations of hand-me-down baby and toddler girl clothes, so Melinda doesn't have to wear her brothers' baby clothes. 🙂
Donations in honour of? If you want to give a gift in honour of Melinda, we might suggest sending a donation to the Christian Blind Mission.   CBM provides eye operations and life impacting treatments to children in the third world who are truly in need.   International Justice Mission also does good work and it accepts international donations.
Thank you all for your love and prayers for us at this precious time!